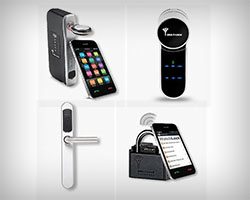 Mul-T-Lock's wide range of products and solutions provide the protection, their customers seek. Their world-known, award-winning locking and access control solutions are as diverse as the needs they address. They deliver any kind of locks, from simple, yet strong high security locksets, for the residential market to the most sophisticated electromechanical access control solutions. All of their products, are known international for the locks reliability and the long lasting materials they are made of. Here is a short list of some of their outstanding products.
Digital Residential Solutions
Mul-T-Lock provides you with high security locking solutions that give you real peace of mind for the people, property and assets that matter most. It requires smart locking sets, you can rely on.  They need to be convenient and cover every access point in order to eliminate any sort of vulnerability.
Commercial Access Control
Mul-T-Lock provides a wide range of products that are able to give an effective access control for commercial and institutional applications. With them you can conveniently control, that only those you want will have access.
Key Platforms
Mul-T-Lock designs and develops key platforms to meet the evolving needs of its customers. Using advanced technologies, Mul-T-Lock is known for its innovations to create unique and high performing solutions.
Cylinders
Mul-T-Lock designs, develops and manufactures a wide selection of cylinders, mechanical and electromechanical, that are able to meet all the security needs of institutions, businesses and homeowners all over the world. Cylinders such as 3in1 , the Flex Control Cylinder and the Construction Master Cylinder provide users security and flexibility.
Padlocks
Mul-T-Locks offers a wide range of padlocks, among which you can find, going beyond traditional padlocks, the Watch Lock, which is in fact an intelligent alarm locking solution, combining the high security of the mechanical padlock with advanced GPS location system and GSM communication.
Industrial Locks
Mul-T-Lock has an industrial lock system that will fit your need to lock and protect everything that is "inside" from vending machines and filling cabinets up to telephones and cash boxes.
More Products and Services
Mul-T-Lock offers you among other products and services also Locksets, Lock Cases, Key Management, Vehicle Protection and Key Cutting Machines. All products and services will be given to you for competitive and fair prices to your utmost satisfaction.